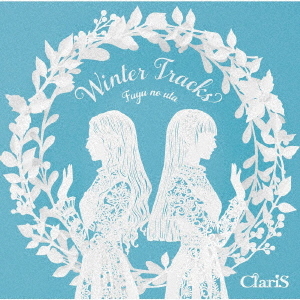 "Snow Light"
2022.12.01
"Snow Light" [Single] / WINTER TRACKS -Fuyu no Uta- [Mini-Album]
Snow Light

Lyrics: ClariS & Junko Miyajima
Composition: Shuhei Takahashi

Silent night, Holy night
I'll be with you forever!

It's giving me a chance to snuggle up - the Winter wind
Warm up my numb fingers with your breath
I'm searching for your real feelings in your profile - Tiny heart
I suddenly tried holding your hand
Where're you looking?

Dazzling illuminations
Everyone in town seems happy
Unable to be honest
these feelings are melting in the sky

Shalalala
Every day every time a midwinter melody resounds
Softly embracing the heartbeat I feel
the moment you gazed at me
I've been waiting this whole time
for the words I want the most from you...
but it just couldn't be special...
Dying white, snow light street

Silent night, Holy night
I'll be with you forever!

Softly falling onto your hair - Fluffy snow
Telling you to brush it off, when I get close to your face, you get embarrassed
Even casual exchanges like this are a sweetie heart
The moments we can laugh together are always irreplaceable presents

I've realized now of all times
that our footsteps are in sync
My heart's getting hot from your kindness, touch it

Shalalala
Anywhere, anytime a melody plays our secret
Squeeze tight and don't let go
of this moment now, of the happiness of being together
Hey, I feel like the words
you want the most are the same for me
"I wanna be together next winter and after that too"

On a night stars dance, where miracles seem about to happen
shining quietly is a white tree, look

Shalalala
Every day, every time our memories pile up
Embracing you with the heartbeat we feel together
the moment we gaze at each other
The loveliest days in the world
will continue on after this too
The footprints lining up next to mine
are for eternity...
To be with you

Silent night, Holy night
You & I last forever!
Snow Light

Sakushi: ClariS & Miyajima Junko
Sakkyoku: Takahashi Shuuhei

Silent night Holy night
I'll be with you forever!

Yorisou kikkake wo kureru no Winter wind
Kajikanda yubisaki toiki de atatamete
Yokogao ni honne sagashiteru Tiny heart
Fui ni kimi no te wo tsunaide mita noni
Doko miteru no?

Mabayui irumineeshon
Machi wa minna shiawasesou de
Sunao ni narenai
Kono omoi wa sora ni toketeku

Shararara
Everyday Everytime hibiku mafuyu no merodi
Mitsumeta shunkan kanjiteru takanari wo
Sotto dakishimete
Kimi kara ichiban hoshii kotoba
Zutto matte ita noni
Tokubetsu niwa narenakute...
Shiroku somaru Snow Light Street

Silent night Holy night
I'll be with you forever!

Funwari kami ni ochite kuru Fluffy snow
Haratte to kao chikazukeru to tereru kimi
Nanigenai konna yaritori mo Sweetie heart
Itsumo waraiaeru jikan wa kakegae no nai purezento

Imasara kizuita'n da
Ashioto ga sorotteru tte
Sono yasashisa de atsuku naru kokoro ni furete yo

Shararara
Anywhere Anytime himitsu kanaderu merodi
Ima kono shunkan soba ni iru shiawase wo
Gyutto hanasanai de
Nee kimi ga ichiban hoshii kotoba
Kitto onaji ki ga suru
"Tsugi no fuyu mo sono saki mo issho ni itai"

Kiseki ga okisou na hoshitachi ga mau yoru
Shizuka ni kirakira kagayaite White Tree hora

Shararara
Everyday Everytime tsumori futari no memorii
Mitsumeru shunkan kanjiau takanari wo
Kimi to dakishimete
Sekai de ichiban itoshii hibi wa
Korekara mo tsuzuite iku
Tonari narabu ashiato wa
Eien ni ne...
To be with you

Silent night Holy night
You & I last forever!
スノーライト

作詞:ClariS・宮嶋淳子
作曲:高橋修平